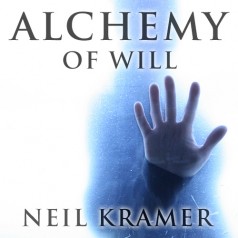 Absorb energizing wisdom, clarifying insights, and a profound living philosophy in this unique audio workshop with Neil Kramer. 2013.
Lucid, incisive, and determined, Kramer throws down the challenge of personal transformation to all those who are committed to conscious growth and knowing the deep magic of the world.
Fascinating investigations into the mysticism, culture, spirituality, and higher consciousness that are so essential for a full-spectrum human experience.
Over SIX HOURS of raw, uplifting, real-world philosophy for humans who are choosing to live freely. Solid spiritual constitutions required. Recorded LIVE over two days with an audience in the beautiful Pacific North West.
TOPICS INCLUDE:
* What are we supposed to do? * Life as a contemplative * The hunt for "it" * The art of witnessing * Secrets of machine culture * The three wills * Philosophy and metaphysics as tools for navigation * Neutralizing polarity * Mysticism encoded in romantic art * Self-discipline and the Fourth Way * Human souls and Gnostic lore
* Tulpas and thoughtforms * What is aliveness? * Nature spirits and sacred sites * The core, the shell, and relationships * The spell of narcissus * Manifesting through authentic conduct * PLUS FULL Q&A session with audience * PLUS FULL accompanying images in companion PDF document
Listener Feedback

"Amazing insights from one of the most gifted teachers around. Super applied knowledge that actually makes a difference in your daily life. Invaluable modern mystical tuition for anyone seriously interested in our mysterious world. Thank you!" PAUL, SAN FRANCISCO
"This masterpiece is so densely packed with spiritual insight, intimate engagement, and intense magic that one could listen a hundred times and continue to discover new wisdom, ever deepening meaning, and dramatic internal shifts, while always enjoying a good laugh." ALICE, BOSTON
"Fantastic. I love how Neil communicates. Always opening new doors and doing it with authentic presence. Never patronizing or dogmatic. This is how it should be – philosophy that is profound, honest and inspiring." MIKE, NEW YORK
"Illumination in every segment and you're always being invited to integrate this into your own life. This is the real deal. It's pretty high-end stuff but he makes it accessible. Kramer talks a good talk, and thank God, he walks it even better." RAY, SAN DIEGO
"Another wonderful chapter in this man's catalogue of deep teachings. Basically instruction in how to see the world more truthfully and undo some of the misconceptions we were conditioned with… then start to actually enjoy a free and satisfying life. This is important." JOHN, LONDON
"I was stuck in conspiracy land. Not any more. Kramer has shown me how to take control of myself and correct the imbalance from the inside out. I am now even more effective in my rebellion. Thank you, thank you, thank you." JULIA, SALT LAKE CITY
"Uncompromising – in a good way. This has helped me to be very honest about what is true and what is false in my life." GARY, DENVER
IMPORTANT INFO
AUDIO-ONLY SPOKEN WORD.
DOWNLOAD WITH A COMPUTER AND USE WI-FI, NOT A MOBILE DEVICE / CONNECTION. The download is a single ZIP file, containing several MP3 files. The ZIP file is best downloaded on a computer with a strong wi-fi connection (stable, high-bandwidth). Once downloaded, the ZIP file can be unzipped, and the resultant MP3 files played directly, or transferred onto any other device.
Most modern computers can handle ZIP files with built-in software. In case you cannot, there are various free apps out there, just google: free zip software. Once you have unzipped the contents, you can then play the MP3 files directly, or transfer onto your mobile device. Some Apple and Android mobile devices may not know what to do with a ZIP file directly – but they play MP3 files no problem – so use a computer to download, unzip, and then transfer the MP3 files onto your mobile device.
Any questions – please use the Contact page on this site.
Download Now
Cost: $20. To purchase, simply use a standard credit or debit card. You don't need a PayPal account to purchase with PayPal. If you do have a PayPal account, you can login as normal.
1. CLICK THE 'BUY NOW' BUTTON BELOW and follow the instructions (PayPal & E-junkie process the payment and file download).
2. AFTER PLACING YOUR ORDER, YOU'LL BE DIRECTED TO A WEB PAGE WITH A UNIQUE DOWNLOAD LINK. Happy listening!