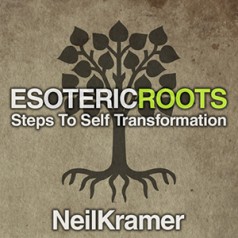 Neil Kramer's extraordinary Esoteric Roots audio seminar is designed for individuals committed to inner growth, mystical awareness, and deeper attainment. 2014.
Explore frank and forthright perspectives on soul, selfhood, grace, death, identity, astral control, pilgrimages, the hidden school, selflessness, education, initiations, and disciplines of the mystery.
OVER SIX HOURS of edifying and uplifting material, recorded live in Portland, Oregon, USA in 2014 over a weekend of excellent spiritual engagement and soulful contemplation.
Six complete sessions featuring: four new lectures, full Q&A session, expanded audience conversation session, plus companion PDF document with seminar images.
Understand the relationship between inner development and the outer mysteries. Clear, incisive, unreserved approaches to modern mystical practice. Don't miss this opportunity for deep personal and metaphysical investigation, in a work that aims for advancement, honesty, and answers.
Listener Feedback

"Simply superb. Timeless wisdom regarding earth, the universe and life's deeper purpose. A highly resonant no-nonsense talk, presented in Neil's warm, humorous and engaging manner. Thank you for sharing." LEIGH
"I'm devouring Esoteric Roots and having numerous epiphanies and synchronicities in my life because of it. Accept no substitutes, Neil is a special guy. He brings the magic in close and I love him for that." KATHY
"Excellent – on my third listen through now and still getting new information out of it. I don't know how he keeps it up. Awesome stuff. I love what this man has to say." MAX
"Esoteric Roots is gold. Neil is one of the few voices that I trust. Just consistently insightful and grounded. Learning cool new stuff with a big smile on my face. Can't ask for more!" ELIZABETH
"Love it! I have come to expect quality from Kramer and this is another awesome recording that you can listen to over and over. Particularly relevant to my journey and education. I highly recommend." MARTIN
"This rocks like I knew it would. Blows the new age stuff out of the water and is never afraid to tackle difficult subjects. But with style and truth. Kramer is the real deal every time." CHRISTOPHER
"I got Esoteric Roots, and then went back and got all Kramer's other material. It's all good. Thanks." WELDON
IMPORTANT INFO

AUDIO-ONLY SPOKEN WORD.
DOWNLOAD WITH A COMPUTER AND USE WI-FI, NOT A MOBILE DEVICE / CONNECTION. The download is a single ZIP file, containing several MP3 files. The ZIP file is best downloaded on a computer with a strong wi-fi connection (stable, high-bandwidth). Once downloaded, the ZIP file can be unzipped, and the resultant MP3 files played directly, or transferred onto any other device.
Most modern computers can handle ZIP files with built-in software. In case you cannot, there are various free apps out there, just google: free zip software. Once you have unzipped the contents, you can then play the MP3 files directly, or transfer onto your mobile device. Some Apple and Android mobile devices may not know what to do with a ZIP file directly – but they play MP3 files no problem – so use a computer to download, unzip, and then transfer the MP3 files onto your mobile device.
Any questions – please use the Contact page on this site.
Download Now
Cost: $20. To purchase, simply use a standard credit or debit card. You don't need a PayPal account to purchase with PayPal. If you do have a PayPal account, you can login as normal.
1. CLICK THE 'BUY NOW' BUTTON BELOW and follow the instructions (PayPal & E-junkie process the payment and file download).
2. AFTER PLACING YOUR ORDER, YOU'LL BE DIRECTED TO A WEB PAGE WITH A UNIQUE DOWNLOAD LINK. Happy listening!