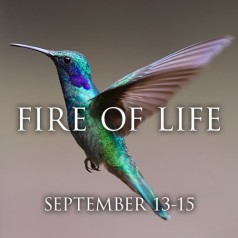 Join Neil in this brand new audio workshop "FIRE OF LIFE" – recorded live at the Omega Institute, New York, 2019.
Immerse yourself in over 7 HOURS of uplifting spiritual edification, theological exploration, and renewing contemplation.
Inquire deeply into the nature of spiritual transformation, methods and authorities for discerning truth, foundations in faith, metaphysical scholarship, real Christian roots, personal and universal purpose, inner and outer regeneration, decoding the bible, distinguishing soul & spirit, solitude and loneliness, fostering contemplation, spiritual warfare, theology of death, cosmology & eschatology, prophecy and revelation, covenants and timelines, esoteric scripture, and more.
Inspiring and educational listening with brand new lectures, audience Q&A, plus companion PDF document with lecture images.
LISTENER FEEDBACK
"Thrilling education in truth seeking, divinity and personal transformation. You cannot fail to be moved and motivated by Neil's words." GA
"Controversial, provocative and brilliant." JP
"Treasures in spiritual teaching from a genuine spiritual teacher. One of a kind." KW
"You'll listen again and again. No-one tackles these deeply mysterious subjects better than Neil Kramer." GE
"Such wisdom and warmth. You will have a new thirst for the sacred mystery after this." HL
"Remarkable! Ancient and modern knowledge applied to real life. Gets your juices flowing. It worked for me." JL
"A much-needed deep dive into the heart of practical spirituality and mysticism, and the whole thing brought to life with such color! Gratitude." FE
** WARNING **
Amongst a great many other things, this workshop also contains positive expositions of pure Christianity, in terms of roots, claims, theology, and application. If you simply don't like Christianity, or are disinclined to distinguish between pure Christianity and false institutionalized religion, do not download. Conversely, if you'd like to deepen your mystical education and learn more about a critical and fascinating element of spiritual life, go ahead and enjoy! Thank you.
IMPORTANT INFO
AUDIO-ONLY SPOKEN WORD.

DOWNLOAD WITH A COMPUTER AND USE WI-FI, NOT A MOBILE DEVICE / CONNECTION. The download is a single ZIP file, containing several MP3 files. The ZIP file is best downloaded on a computer with a strong wi-fi connection (stable, high-bandwidth). Once downloaded, the ZIP file can be unzipped, and the resultant MP3 files played directly, or transferred onto any other device.

ZIP FILE. Most modern computers can handle ZIP files with built-in software. In case you cannot, there are various free apps out there, just google: free zip software. Once you have unzipped the contents, you can then play the MP3 files directly, or transfer onto your mobile device. Some Apple and Android mobile devices may not know what to do with a ZIP file directly – but they play MP3 files no problem – so use a computer to download, unzip, and then transfer the MP3 files onto your mobile device.

SLIDES. The primary content is the audio recording itself. As with all Neil Kramer workshop recordings, any supplementary slides/images are purely for illustrative purposes and are totally inessential to the audio content and meaning. Not all slides are present and the slide order may vary from the actual event.


CONTACT. Use the Contact page on this site, or the email on the E-Junkie ordering system for this product if you have questions or issues.
DOWNLOAD NOW
Cost: $20. To purchase, you can use a standard credit/debit card or your PayPal account.

1. CLICK THE 'BUY NOW' BUTTON BELOW and follow the instructions (PayPal, E-junkie, Fatfreecartpro process payment and download).
2. AFTER PLACING YOUR ORDER, YOU'LL BE DIRECTED TO A WEB PAGE WITH A UNIQUE DOWNLOAD LINK. Happy listening! Download time may vary depending on server traffic.