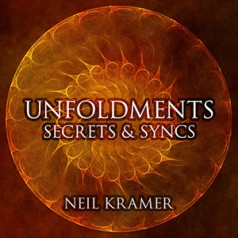 Journey deep into the realm of sacred knowledge in this exclusive audio workshop with Neil Kramer. 2012.
What does it take to live as an empowered, free, conscious human being amid the surreal mindscapes of the 21st century? Kramer proposes real solutions for real life.
SIX HOURS hours of high quality audio, recorded live with an audience in the stunning Pacific North West, USA, August 2012.
Unravel some of the most enduring enigmas of the human adventure, in a discourse that explores the links between philosophy, gnosis, control, religion, and magic.
Inspiring, entertaining, and enlightening, Neil Kramer tells it like it is.
DISCUSSION INCLUDES: The voyage of the free-thinker, breaking the shell of concealment, principles of the greater and lesser mysteries, real histories hiding in fictional texts, selfhood and no-self, connections between Kabbalah and Christianity, people who say NO, purifying the vessel for truth, natural energy vortices in the land, managing light units, the question of tulpas, the quandary of ultra-terrestrial presence, uprooting negative patterns, dealing with inauthentic people, the importance of informed consent, divine will in real life, LIVE Q&A session, and more! (Note: there are intentionally no seminar images with this download, as they were purely for illustrative purposes.)
Listener Feedback
"Outstanding. Makes me feel better about the human race listening to this." (JOSHUA, USA)
"Awesome! Loved it on the first listen through and the next time, and the next time. So much rich detail in there. Nice work." (IAN, USA)
"In HEAVY ROTATION on my iPhone playlist. Almost as good as being there. Thanks for all that you do bro." (RYAN, USA)
"Another gem, packed with knowledge. A hell of a good ride! Thank you Mr. Kramer!" (ADAM, USA)
"Sheer quality from start to finish. Thank you." (ROBERT, UK)
"Just fascinating! Thank you so much. My husband and I adored this workshop talk and have gifted it to friends too." (MARGARET, USA)
"Uplifting and real. Heartening to see the true spirit of man will always triumph. Thank you!" (CHARLES, USA)
"I love it. Much novel information to soak up. Does this guy ever repeat himself? Entertaining + educational!" (LAURA, UK)
"It is a joy. My girlfriend got me this after we read your Unfoldment book. We thank you from the bottom of our hearts." (JUAN PABLO, MEXICO)
IMPORTANT INFO
AUDIO-ONLY SPOKEN WORD.
DOWNLOAD WITH A COMPUTER AND USE WI-FI, NOT A MOBILE DEVICE / CONNECTION. The download is a single ZIP file, containing several MP3 files. The ZIP file is best downloaded on a computer with a strong wi-fi connection (stable, high-bandwidth). Once downloaded, the ZIP file can be unzipped, and the resultant MP3 files played directly, or transferred onto any other device.
Most modern computers can handle ZIP files with built-in software. In case you cannot, there are various free apps out there, just google: free zip software. Once you have unzipped the contents, you can then play the MP3 files directly, or transfer onto your mobile device. Some Apple and Android mobile devices may not know what to do with a ZIP file directly – but they play MP3 files no problem – so use a computer to download, unzip, and then transfer the MP3 files onto your mobile device.
THIS SEMINAR HAS NO PDF OF SLIDES. Any verbal reference to images is purely illustrative.
Any questions – please use the Contact page on this site.
Download Now
Cost: $20. To purchase, simply use a standard credit or debit card. You don't need a PayPal account to purchase with PayPal. If you do have a PayPal account, you can login as normal.
1. CLICK THE 'BUY NOW' BUTTON BELOW and follow the instructions (PayPal & E-junkie process the payment and file download).
2. AFTER PLACING YOUR ORDER, YOU'LL BE DIRECTED TO A WEB PAGE WITH A UNIQUE DOWNLOAD LINK. Happy listening!