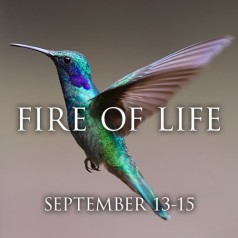 FIRE OF LIFE



Neil Kramer Weekend Workshop
Sept 13-15, 2019
Omega Institute, Rhinebeck, New York, USA
https://www.eomega.org/workshops/fire-of-life
Join Neil Kramer for an inspirational weekend of discovery, contemplation, and fellowship.
Experience the empowering principles of the supernal path, embrace the mysteries of inner & outer transmutation, and explore the beautiful adventure of the divine human.
We will discuss the earth classroom, the witness and wisdom of spirit, degrees of purpose, end times theology, the regenerate and unregenerate life, discerning one's calling, decoding sacred language, reconciliation and annihilation, the reality of the supernatural, the true origin and fate of empire, the critical importance of truth telling, and more.
Throughout the weekend you participate in illustrated talks, question-and-answer sessions, opportunities for inner reflection, and occasions to share your journey among like-minded friends.